Growing up along Ohio's northeastern shore, Dave Lucas felt the poetry of Lake Erie many years before he knew its landscapes could be thought of that way.
A moment of epiphany for him came as a teenager, reading Autumn Begins in Martins Ferry, Ohio—a poem that not only name-dropped a place familiar to Lucas as near his father's hometown, but also showed him how so few words could bring it to life.
"Instantly I was struck by: This can be done," said Lucas, a lecturer in English at Case Western Reserve University. "For a lot of writers, there's a realization: I can write about where I'm from, about what I know."
Ohio's poet
Named the state's poet laureate on Jan. 1, Lucas will spend the next two years showing Ohioans how poetry is often as already present in their own lives as the metaphors in their conversations, how it thrives in the literary communities, and the history of a state that many a writer has felt moved to try to evoke in meter and verse.
"So often, our encounters with poetry can feel intimidating, exclusive and like there's so much we don't 'get'," said Lucas, who teaches "Poetry for People Who Hate Poetry," a SAGES course at CWRU. "I want to help de-mystify poetry—it's so much more than what we're told we have to read in middle school."
By encouraging encounters with poems, Lucas hopes some Ohioans will write their own—seeing how it's helped his own students think and feel in more complex ways, and find new meaning in pain, joy and emotions in between.
Lucas credits the work of poets—Ohio poets, in fact—for pulling him toward a life in literature, including Dayton's Paul Laurence Dunbar and Clevelanders Langston Hughes (briefly a resident) and Hart Crane—a city native whose statue stands outside Kelvin Smith Library, marking a tragically brief career that Lucas cites as inspiration for his own poem Lines for Winter.
Lucas is Ohio's second-ever poet laureate, succeeding Amit Majmudar, a diagnostic nuclear radiologist in the Columbus area (and Cleveland native). The position was created in 2014.

45 U.S. states, and Washington, D.C., have poets laureate, according to the Library of Congress.

While earning an MFA from the University of Virginia, Lucas studied under Akron native Rita Dove, a former U.S. Poet Laureate (1993-95).

Lucas won the Cleveland Art Prize and its Emerging Artist Award in 2016, and that same year, also served as the inaugural William N. Skirball Writers' Center writer-in-residence at the Cuyahoga County Public Library.

Lucas has also taught at John Carroll Young Writer's Workshop and Cleveland Clinic Program in Medical Humanities at the Lerner College of Medicine.

The Ohio Poet Laureate Selection Committee chose Lucas for the post, following a statewide nomination and review process.
For Lucas, penning a poem often begins with hearing phrase or word in a new way that stays stuck in his mind. And, likening the process to a dog with a bone, Lucas will gnaw on an idea to get at a deeper layer within.
"When an idea comes, you have to drop everything and try and catch it, like trying to remember a dream, knowing you'll never quite get whatever the original feeling was," he said.
"I tell my students: If you're frustrated at the difference between what you want your work to be and what it is, imagine how good Hamlet was in Shakespeare's imagination."
Lucas's first collection of work, Weather, won the 2012 Ohioana Book Award for Poetry, and he is working on material for a second, but in no rush.
"Looking at one's old work is often like looking at yearbook photos: Like, I really thought that was cool?" Lucas said. "Sometimes a poem happens—more often it does not. Sometimes I have to swear off the whole thing and regret not becoming a marine biologist.
"Turns out, I'm not that good at dolphins," he said. "And I can't not write and still be happy."
In the coming months, Lucas will begin traveling the state as poet laureate, hosting readings and workshops and tending to an as-yet unannounced large cultural project that will become the centerpiece of his term.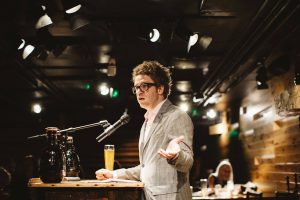 Planning these events, Lucas will draw on his experience co-founding and co-curating Brews + Prose, a regular reading series since 2012 that's become an institution in the Northeast Ohio literary community.
With a slogan of "Literature is better with beer" and hosted at Market Garden Brewery, the readings try to eliminate the separation between writers, their works and the audience—and dare to encourage a key aspect absent in the stuffy stereotype of such events: fun.
"We wanted people to get their cultural broccoli with a heap of Velveeta on top," Lucas said. "I hope to bring the same spirit to my work as poet laureate."
1. What's your favorite place to grab a bite to eat in Cleveland?
Anatolia Café, Banter, Citizen Pie, Ginko, L'Albatros, Momocho, Spice, Vero Bistro. Please don't make me pick just one.
2. Where would you like to travel that you've never been to?
To say "everywhere" feels like cheating, so let's start with Machu Picchu.
3. What is your biggest goal for 2018?
Getting these questions right is hard enough for now. I'm still worrying what restaurants I might have missed.
(I'd like to help people all over the state connect with poetry too though.)
4. If you had to pick another field to work in or study, what would it be?
The "travel the world and eat" television genre seems like a good gig, but I also once wanted to write for the creative team at the (then) World Wrestling Federation.
5. What's your favorite thing about Case Western Reserve?
My students.