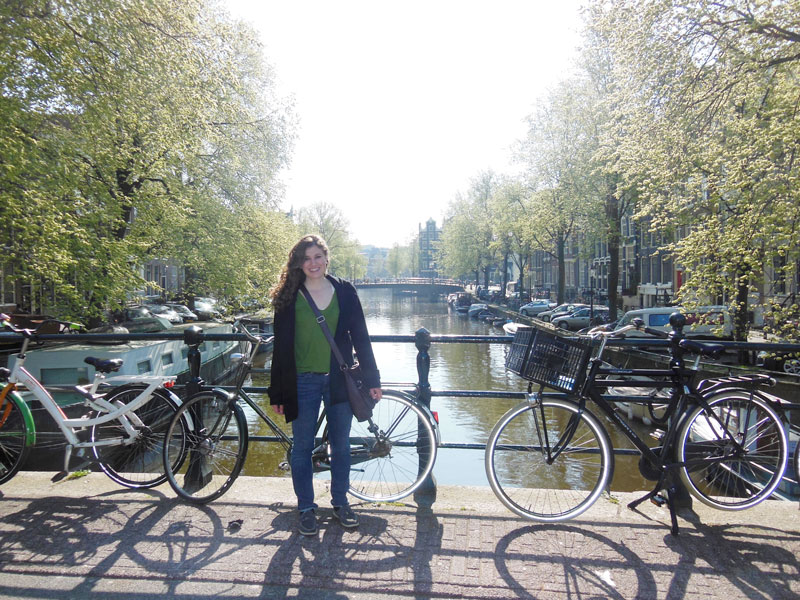 Rising senior Karen Kruzer is trying something different this summer: staying in Cleveland. The pre-med, medical anthropology major is interning at MetroHealth Medical Center on a research study related to kidney failure in premature babies.
Staying in the city might not seem abnormal for most. But for someone's who traveled to more than 20 countries since she started college, it's hard to stay in one place.
Kruzer got the travel bug when she traveled to Rome with her AP Latin class in high school. "From that point on I knew traveling was an important factor in deciding which college to attend," she said. "Case [Western Reserve] has many strong short- and longer-term study abroad programs, and by planning my pre-med class schedule ahead I was very fortunate to make everything fit."
When she got on campus, she started traveling, going to Costa Rica and Ecuador through the short-term study abroad programs her first two years here. As a junior, she spent spring semester studying in Rome, Seville and Paris through the Junior Year Abroad program.
While there, she backpacked through 18 countries, listening to bagpipes in Scotland, attending a Mumford and Sons concert in Portugal and celebrating Easter in the Hungarian bathhouses.
With so many memorable experiences, it's hard to pin down a favorite place. But, when pressed, she made her decision: Greece.
"Nothing compares to the surreal experience of being in the Acropolis and ancient Greek Agora, relaxing on the beaches with feta and moussaka, swimming to volcanic hot springs, and riding a donkey on the island of Santorini," she said. "Nothing is as exciting as meeting people who speak a different language and use a different currency from yourself, yet still being able to understand each other."
Soon, she hopes to travel to Iceland—a "backpackers' utopia," as she called it. But next up on her list is heading back to Case Western Reserve's campus, where she'll kick off her senior year in just a few weeks.
As she prepares for her last year as an undergraduate—though she'll also earn her master's degree in bioethics through the Integrated Graduate Studies program—she takes the memories and lessons she's learned through her time overseas.
"Study abroad taught me to become more flexible and that it is sometimes OK for things to not go as planned," Kruzer said. "Sometimes it's OK to dance in the street all night long with backpacks, to venture off every corner of the map, to miss a bus (or two), to get off a train and have no idea what country you're in. Ultimately, I learned how to navigate on my own and became more confident in my decision-making skills—and I know I will always carry this new mindset with me in the future."
Want to know more about Kruzer? So did we. Read her answers to our five questions.
1. If you could do any job in the world for one day, what would it be and why?
To serve as ski patrol in the Swiss Alps. It would enable me to ski for free all day in a beautiful country while also being able to sharpen up on some skills in preparation for medical school.
2. What's your favorite TV show of all time?
I don't normally watch TV, but a few years ago my younger brother got me hooked on Lost. Somehow I managed to watch all six seasons in practically one sitting. The confusion always kept me thinking and eager for the next episode.
3. What's your biggest pet peeve?
Hearing people file their nails in public—the sound is just about as bad as nails on a chalkboard.
4. What is the best class you've ever taken—from elementary school through higher education—and what skills or lessons did you learn that you still use today?
Two classes tie as my favorites. I loved the "City of Rome" course I took while studying in Rome last semester; classes were held in the Vatican Museum, outside the Pantheon, and of course next to famous Bernini masterpieces. It rekindled my passion for learning about Greek and Roman antiquity, which I studied for five years in Latin class. We truly can learn from the past to understand the present.
I also loved my organic chemistry course here at CWRU, for it taught me entirely new thought processes. Some problems could be solved forward, while others were often solved backward!
5. What is your favorite thing about Case Western Reserve?
CWRU provides endless possibilities to its students, primarily due to its devoted professors and its location in University Circle, and I am truly grateful for that. The professors are all experts in their fields and fully support their students' endeavors. We also have access to research/internships at world-renowned institutions such as University Hospitals, the Cleveland Clinic, and MetroHealth Medical Center all within close proximity.